Grand Prize - Casuals League
Pros League Prizes
Once we reach 4 total Divisions, the top overall winner from all teams in the fantasy football league will receive an Ultra Draft Prize Pack to the 2024 Ultra Draft of their choice!
Prize Pack Includes:
Full Registration Package Comped for Ultra Draft of Choice ($350 MSRP)
One Extra Jersey ($45 MSRP)
Runner Up Prize: $100 League Joe Credit
---
Each League Has Three Winners!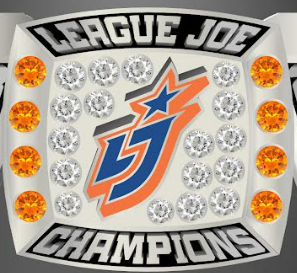 All players who register will be divided into 12-team leagues that will be played on ESPN Fantasy Football website. The winners of each individual league will receive prize packages from League Joe!
First Place Winner:
- 1 NIW Slowpitch Softball Bat ($300 MSRP, Player to Select from Available USSSA/ASA Models)
- 1 Championship Ring (MSRP $100) (Added at 8 Divisions)
Second Place:- $50 League Joe Credit 

Third Place:
- $25 League Joe Credit